Galaxy Gaming Announces Leadership Change
LAS VEGAS, Nov. 06, 2023 (GLOBE NEWSWIRE) -- Galaxy Gaming, Inc. (OTCQB: GLXZ) ("Galaxy" or the "Company"), a developer and distributor of casino table games and enhanced systems for land-based casinos and iGaming, announced today that its Board of Directors has appointed a new President and Chief Executive Officer of the Company. The Company's Board of Directors has appointed Matt Reback, who will join Galaxy on November 13, 2023.

"We are excited to welcome Matt as the Company's new President and CEO. The Board carefully considered this change, examined multiple candidates, and ultimately believed it was the right decision to bring a new perspective into the Company as we embark on our next phase of growth," stated Mark Lipparelli, Chairman of Galaxy's Board of Directors. "Matt brings to Galaxy a combination of 20 years of leadership skills acquired in the gaming industry from both operator and technology companies. On a positive note, we are making this change with a solid foundation intact, and we are well-positioned going into the 2024 fiscal year."
"I am looking forward to joining the Galaxy team and continuing what has been a great story in the gaming industry," stated Matt Reback. "I intend to quickly get up to speed and make sure our 2023 year-end goals and 2024 plans remain on-track, while also taking a fresh look at our opportunities. There is a team of talented people at Galaxy who have demonstrated their ability to compete effectively against companies with more resources as well as their success forming strong industry partnerships. I expect that one of my goals with the Board will be to build on those successes."
Prior to accepting this role, Mr. Reback served as the founder and President of Bravery Gaming. Prior thereto Mr. Reback held senior management positions in product management, sales, marketing and operations with AGS, Konami Gaming, Red Rock Casinos (formerly Station Casinos) and Caesars Entertainment. Mr. Reback is a graduate of UCLA and University of San Diego School of Law.
Lipparelli added, "We are appreciative of Todd Cravens' material contributions to the development of Galaxy over the past six years, including navigating successfully the difficult pandemic period. We wish him well in his next endeavor."
The Company intends to work through a brief transition with Mr. Cravens and expects Harry Hagerty to serve as an interim President and Chief Executive Officer should such a need arise.
The Company expects to release third quarter results on Monday, November 13. It currently expects to report Revenue of $6.1 million and Adjusted EBITDA of $1.5 million for the quarter and Revenue of $21.1 million and Adjusted EBITDA of $7.8 million for the nine months ended September 30, 2023. In the third quarter, revenues from perpetual license sales were approximately $1 million lower than in the first and second quarters of 2023. In the third quarter, the Company significantly increased its allowance for doubtful accounts, principally as a result of financial difficulties at a single customer, and it continued to incur significant legal expenses related to intellectual property registrations around the world. The Company expects to report that, at September 30, 2023, it had $58.7 million in debt and $15.9 million in cash and that it was in compliance with the covenants in its credit agreement. The Company expects to issue fourth quarter guidance of $7.0-$7.5 million in revenue and $2.8 million to $3.2 million in Adjusted EBITDA. Actual reported results may differ from the estimates made here, and it should be noted that these estimates do not include any expenses related to the CEO transition described earlier in this press release.
Forward-Looking Statements
This press release contains, and oral statements made from time to time by our representatives may contain, forward-looking statements based on management's current expectations and projections, which are intended to qualify for the safe harbor of Section 27A of the Securities Act of 1933, as amended, and Section 21E of the Securities Exchange Act of 1934, as amended. Forward-looking statements include statements identified by words such as "believe," "will," "may," "might," "likely," "expect," "anticipates," "intends," "plans," "seeks," "estimates," "believes," "continues," "projects" and similar references to future periods, or by the inclusion of forecasts or projections.  All forward-looking statements are based on current expectations and projections of future events.
These forward-looking statements reflect the current views, models, and assumptions of Galaxy Gaming, and are subject to various risks and uncertainties that cannot be predicted or qualified and could cause actual results in Galaxy Gaming's performance to differ materially from those expressed or implied by such forward looking statements. These risks and uncertainties include, but are not limited to, the ability of Galaxy Gaming to enter and maintain strategic alliances, product placements or installations, in land based casinos or grow its iGaming business, garner new market share, secure licenses in new jurisdictions or maintain existing licenses, successfully develop or acquire and sell proprietary products, comply with regulations, have its games approved by relevant jurisdictions, and adapt to changes resulting from the COVID-19 pandemic and other factors. All forward-looking statements made herein are expressly qualified in their entirety by these cautionary statements and there can be no assurance that the actual results, events, or developments referenced herein will occur or be realized. Readers are cautioned that all forward-looking statements speak only to the facts and circumstances present as of the date of this press release. Galaxy Gaming expressly disclaims any obligation to update or revise any forward-looking statements, whether because of new information, future events or otherwise.
Certain statements in this release may constitute forward-looking statements, which involve a number of risks and uncertainties. Galaxy cautions readers that any forward-looking information is not a guarantee of future performance and that actual results could differ materially from those contained in the forward-looking information due to a number of factors, including those listed from time to time in reports that Galaxy files with the Securities and Exchange Commission.
About Galaxy Gaming
Headquartered in Las Vegas, Nevada, Galaxy Gaming (galaxygaming.com) develops and distributes innovative proprietary table games, state-of-the-art electronic wagering platforms and enhanced bonusing systems to land-based, riverboat, and cruise ship and casinos worldwide. In addition, through its wholly owned subsidiary, Progressive Games Partners LLC, Galaxy licenses proprietary table games content to the online gaming industry. Connect with Galaxy on Facebook, YouTube and Twitter.
Non-GAAP Financial Information
Adjusted EBITDA includes adjustments to net loss/income to exclude interest, taxes, depreciation, amortization, share based compensation, gain/loss on extinguishment of debt, foreign currency exchange gains/losses, change in estimated fair value of interest rate swap liability and severance and other expenses related to litigation. Adjusted EBITDA is not a measure of performance defined in accordance with generally accepted accounting principles in the United States of America ("U.S. GAAP"). However, Adjusted EBITDA is used by management to evaluate our operating performance. Management believes that disclosure of Adjusted EBITDA allows investors, regulators, and other stakeholders to view our operations in the way management does.   Adjusted EBITDA should not be considered as an alternative to net income or to net cash provided by operating activities as a measure of operating results or of liquidity. Finally, Adjusted EBITDA may not be comparable to similarly titled measures used by other companies.
Contact:
Media:
Investors:

     
Phylicia Middleton (702) 936-5216
Harry Hagerty (702) 938-1740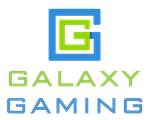 Source: Galaxy Gaming, Inc.

Released November 6, 2023