Galaxy Gaming® to Showcase Electrifying Content and Technology Global Gaming Expo 2023
LAS VEGAS, Oct. 03, 2023 (GLOBE NEWSWIRE) -- Galaxy Gaming, Inc. (OTC: GLXZ), the world's largest independent developer and distributor of casino table games and technology will unveil innovative new content and technology at this year's Global Gaming Expo (G2E) from October 10-12 in booth #4016.
"We're thrilled to be exhibiting at G2E and for the opportunity meet with our customers and showcase some of the exhilarating new products and titles we've been working on," shared Todd Cravens, President and CEO of Galaxy Gaming. "Through our investment in building the best-in-class operating system, developing thrilling new and proven titles, and our strong iGaming roadmap, we remain committed to delivering the greatest table games experience to everyone, everywhere."
Galaxy's newest technology and table games will be showcased in their booth including the inventive products below:
Galaxy Operating System's Electrifying Dynamic Progressive
GOS' flexible electronic bonusing platform powers the world's first Dynamic Progressive. Unlike any other progressive, Dynamic Progressive blends our most popular games with an exhilarating experience where players see pays increase with electrifying and dynamic results. The latest version of Dynamic Progressive complete with electric new themes, animations, and celebrations.
Industry Leading Tech
Debuting at G2E 2023 are GOS's new sensors with fully customizable patterns and colors, vibrant new tablevision screens featuring enhanced graphics, animations, and striking LED lights, and building on the success of Lunar Table Display, the Lunar Table Display II, an electronic dice and roulette tracker. LTD II is designed to simplify the tracking of Galaxy optional wagers including Bonus Craps™, Repeater Bets™, Repeater Bets Plus™ and Repeater Bets for Roulette.
Table Games Content for Everyone, Everywhere
Galaxy's robust table game content library grew even stronger in 2023 after launching brand new titles like Keep It Straight Poker™, a perfect complement to the player-favorite High Card Flush™, and the distribution of the #1 baccarat brand in North America, EZ Baccarat, both of which will be featured in-booth. Other product highlights include 21+3™, Lucky Ladies™ and Perfect Pairs™ side bets all on one triple progressive blackjack table and the fast and fun 3 Dice Baccarat™.
Additional titles available to play in-booth will include Roulette Up™ with digital tracking powered by GOS, Split To Double™, Lucky 9™, and High Roller Hold'em,
Galaxy Gaming Digital Portfolio Expands
Galaxy Gaming Digital is the leading licensor of proprietary casino table games in the online gaming world. Leading into G2E, Galaxy will launch the first collection of their Galaxy-built RNG games– Split to Double Blackjack™, Roulette Up™, and Rising Phoenix™ Baccarat. 
In the last twelve months, over two billion wagers worldwide have been made online on Galaxy Gaming side bets alone and new Galaxy Gaming titles are getting launched every month. These titles can be found on games developed by Galaxy iGaming partners across over 1,000 of the world's leading online casino websites and will be featured at Galaxy's booth.
Don't miss these game-changing table games and solutions at booth #4016. To stay up-to-date or for complimentary registration visit www.galaxygaming.com/G2E
About Galaxy Gaming
Headquartered in Las Vegas, Nevada, Galaxy Gaming (galaxygaming.com) develops and distributes innovative games, bonusing systems, and technology solutions to physical and online casinos worldwide. Galaxy Gaming offers games that are proven to perform developed by gaming experts and backed by the highest level of customer support. Galaxy Gaming Digital is the world's leading licensor of proprietary table games to the online gaming industry.
This press release contains, and oral statements made from time to time by our representatives may contain, forward-looking statements based on management's current expectations and projections, which are intended to qualify for the safe harbor of Section 27A of the Securities Act of 1933, as amended, and Section 21E of the Securities Exchange Act of 1934, as amended. Forward-looking statements include statements identified by words such as "believe," "will," "may," "might," "likely," "expect," "anticipates," "intends," "plans," "seeks," "estimates," "believes," "continues," "projects" and similar references to future periods, or by the inclusion of forecasts or projections. All forward-looking statements are based on current expectations and projections of future events.
These forward-looking statements reflect the current views, models, and assumptions of Galaxy Gaming, and are subject to various risks and uncertainties that cannot be predicted or qualified and could cause actual results in Galaxy Gaming's performance to differ materially from those expressed or implied by such forward looking statements. These risks and uncertainties include, but are not limited to, the ability of Galaxy Gaming to enter and maintain strategic alliances, product placements or installations in land based casinos or grow its iGaming business, garner new market share, secure licenses in new jurisdictions or maintain existing licenses, successfully develop or acquire and sell proprietary products, comply with regulations, changes in gaming related and non-gaming related statutes and regulations and/or self-imposed restrictions imposed on and by our customers that affect their revenues in land-based casino and online casino markets, have its games approved by relevant jurisdictions, and adapt to changes resulting from the COVID-19 or other pandemics including without limitation, government imposed shut downs, travel restrictions and supply chain interruptions, and other factors. All forward-looking statements made herein are expressly qualified in their entirety by these cautionary statements and there can be no assurance that the actual results, events or developments referenced herein will occur or be realized. Readers are cautioned that all forward-looking statements speak only to the facts and circumstances present as of the date of this press release. Galaxy Gaming expressly disclaims any obligation to update or revise any forward-looking statements, whether because of new information, future events or otherwise.
Contact:
Media:
Phylicia Middleton (702) 938-1753
Investors:
Harry Hagerty (702) 938-1740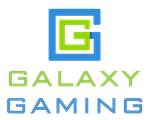 Source: Galaxy Gaming, Inc.

Released October 3, 2023