Galaxy Gaming® Delivers Galaxy Operating System Across Carnival Corporation & Plc® Fleet
LAS VEGAS, Sept. 26, 2023 (GLOBE NEWSWIRE) -- Galaxy Gaming, Inc. (OTC: GLXZ), the world's largest independent developer and distributor of casino table games and technology announced today that they will deliver Galaxy Operating System™ (GOS) as the table games system for 50+ ships across the globe with Carnival Corporation & plc (NYSE/LSE: CCL; NYSE: CUK), the world's largest leisure travel company. Already live on over 20 ships, GOS will power the jackpot progressive system for Carnival Corporation ships, including Carnival Cruise Line®, Holland America Line®, and Princess Cruises®.

Launched this year, GOS is the next-generation game management system featuring innovative progressive jackpot options, striking LED sensors, and first-of-its kind digital tracking.
"Carnival Corporation is a global leader in providing first-class experiences for their guests and our continued collaboration is a testament to our shared focus," said Todd Cravens, President and CEO of Galaxy Gaming. "We're thrilled that the deployment of our GOS system will deliver the best-in-class progressive experience and world-famous content to their casino players fleet-wide."
"Our vision at Carnival Corporation is to deliver unforgettable happiness by providing extraordinary cruise vacations to millions of guests. To that end, the Galaxy Operating System will help us create a table game experience that is second to none, ramping up the fun, excitement and rewards more than ever before," said Marty Goldman, Senior Vice President of Global Casino Operations for Carnival Corporation. "We expect the new games to be an instant hit with our guests."
Those interested in learning more about GOS are encouraged to visit www.galaxygaming.com.
About Galaxy Gaming
Headquartered in Las Vegas, Nevada, Galaxy Gaming (galaxygaming.com) develops and distributes innovative games, bonusing systems, and technology solutions to physical and online casinos worldwide. Galaxy Gaming offers games that are proven to perform developed by gaming experts and backed by the highest level of customer support. Galaxy Gaming Digital is the world's leading licensor of proprietary table games to the online gaming industry.
About Carnival Corporation & plc
Carnival Corporation & plc is the largest global cruise company, and among the largest leisure travel companies, with a portfolio of world-class cruise lines – AIDA Cruises, Carnival Cruise Line, Costa Cruises, Cunard, Holland America Line, P&O Cruises (Australia), P&O Cruises (UK), Princess Cruises, and Seabourn.
This press release contains, and oral statements made from time to time by our representatives may contain, forward-looking statements based on management's current expectations and projections, which are intended to qualify for the safe harbor of Section 27A of the Securities Act of 1933, as amended, and Section 21E of the Securities Exchange Act of 1934, as amended. Forward-looking statements include statements identified by words such as "believe," "will," "may," "might," "likely," "expect," "anticipates," "intends," "plans," "seeks," "estimates," "believes," "continues," "projects" and similar references to future periods, or by the inclusion of forecasts or projections. All forward-looking statements are based on current expectations and projections of future events.
These forward-looking statements reflect the current views, models, and assumptions of Galaxy Gaming, and are subject to various risks and uncertainties that cannot be predicted or qualified and could cause actual results in Galaxy Gaming's performance to differ materially from those expressed or implied by such forward-looking statements. These risks and uncertainties include, but are not limited to, the ability of Galaxy Gaming to enter and maintain strategic alliances, product placements or installations in land-based casinos or grow its iGaming business, garner new market share, secure licenses in new jurisdictions or maintain existing licenses, successfully develop or acquire and sell proprietary products, comply with regulations, changes in gaming related and non-gaming related statutes and regulations and/or self-imposed restrictions imposed on and by our customers that affect their revenues in land-based casino and online casino markets, have its games approved by relevant jurisdictions, and adapt to changes resulting from the COVID-19 or other pandemics including without limitation, government imposed shut downs, travel restrictions and supply chain interruptions, and other factors. All forward-looking statements made herein are expressly qualified in their entirety by these cautionary statements and there can be no assurance that the actual results, events or developments referenced herein will occur or be realized. Readers are cautioned that all forward-looking statements speak only to the facts and circumstances present as of the date of this press release. Galaxy Gaming expressly disclaims any obligation to update or revise any forward-looking statements, whether because of new information, future events or otherwise.
Contact:
Media:
Phylicia Middleton (702) 938-1753
Investors:
Harry Hagerty (702) 938-1740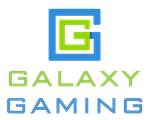 Source: Galaxy Gaming, Inc.

Released September 26, 2023